This page was last updated on: June 19, 2010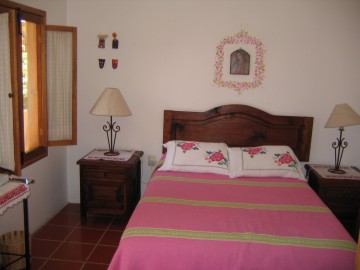 Your home in Oaxaca will look like this!

CLICK HERE for RESERVATION Information!


December 31, 2006 – Sunday

  Break your fast with fresh fruit, fresh squeezed juice, and a different Oaxacan breakfast every morning.

If it's Sunday, we visit Tlacolula's famous market, occupying the main street into town. 


Today we visit Oaxaca's famous Chocolate Factory. 
Optional afternoon walk is to the Santo Domingo Cathedral

and adjoining Museum of Oaxacan Cultures.  

New Year's Eve celebration!

January 3, 2007 – Wednesday

Today we visit the Market in Etla, home of the famous white cheese. 

This is one of the most picturesque and authentic markets in Oaxaca. 

We join Chef Susana Trilling at the market and visit the different stalls,

while choosing only the plumpest pepper, freshest corn, and the perfect tomato.

We return to her kitchen, snuggled in the mountains around Oaxaca, to prepare our meal. 

After this all-day cooking class, we will indulge in the food we prepared.  

January 2, 2007 – Tuesday

This morning we experience the ancient Zapotec capitol of Monte Alban. 

Visit the museum and see the Grand Plaza. 

On the back side of the flattened hilltop, in the shadow of Monte Alban,

is the village of Atzompa, thought to be an ancient craft village from Monte Alban. 

Visit the new Pottery Co-Op.

January 1, 2007 – Monday

After a great breakfast, we depart for Santa Ana and Teotitlan del Valle, the weaving capital of Oaxaca. 

Observe famous weavers and view the entire weaving process.

Visit the rug market and more studios.

The surrounding landscape is covered with large, blue, agave plants. 

Stop at a mescal brewery and view each stage of the fermentation of mescal.  

Sample the of flavors of mescal, some flavors for men and other flavors for women.

Returning to Oaxaca, gaze at El Tule,  the largest tree in Latin America.

January 5, 2007 – Friday

We will gladly help you and carry your collection to your morning flight.

But, don't say "Good bye!"  Say, "Hasta luego!" or "Until next time!"

You will want to return to Oaxaca.   You have no choice!

Remember the Zapotec saying, "If you eat grasshoppers, you will return to Oaxaca." 

Meet the Artists!

9 Days of Art & Culture in Oaxaca!

December 28, 2006 - January 5, 2007


Oaxaca is nestled in the highlands of Mexico, between three mountain ranges. 
In this high valley, enjoy a moderate New Year's in the mountains,

with afternoon highs in low-80's and evening lows in  the low-60's,

or hats during day, light jackets at nights.  

In late December and early January,

the air is dry and the temperatures are warm. 

Welcome to a comfortable winter in Oaxaca!

The Art of Oaxacan Culture!

January 4, 2007 – Thursday

This morning is free, with options to tour Oaxaca's Botancial Gardens

and/or famous MARO Gallery, the Craft Woman's co-op.

After lunch, a special treat for our last afternoon & evening in Oaxaca!

December 29, 2006 – Friday


We will have a special treat of a busy day today! 
First stop will be in the famous village of Tilcajete, with the best selection of alebrijes and wood crafts. Back to the main highway, we depart for Ocotlan to see the well known

Aguilar Sister's homes and studios.   Josephina loves to demonstrate her art. 

Saturday market in Ocotlan will be in full swing. 

Rudolfo Morales' Casa de Cultura, "House of Culture," offers a great history of the area crafts. 

After a evening buffet of traditional Oaxacan cuisine at the fabulous Camino Real Hotel,

enjoy the Guelaguetza Dance Festival, with dances from around Oaxaca.  

December 30, 2006 – Saturday

Today is Market Day in Oaxaca.  

We'll find more enjoyable shopping at the Mercado de Artesanias, or Artists Market. 

Great selections at good prices make this one of the best places to find the crafts of Oaxaca. 

After lunch, shop on your own for quick dashes back to your favorite artists or markets.

Or, enjoy the afternoon at the Zocalo, watching the world walk by.

Better yet, take a siesta! Just return to our new home for an evening Happy Hour 

December 28, 2006 – Thursday



Fly into the modern Oaxaca City Airport.  Your scheduled flight will be personally greeted.
You will be escorted to a Mexican colonial me in the Central Historical District. 

The recently renovated rooms have retained their hacienda flavor.

For 20 years, this American family have hosted friends and guests. 

Welcome to your Oaxacan home!

When you arrive, it's Happy Hour, with margarita's, wine or sodas.

Relax! Later, if you feel like it, stretch your legs!

Orient yourselves to the convenience of downtown Oaxaca.

Enjoy a short walk to the Zocalo, the main square. 

After complimentary Happy Hour, enjoy free time, evening activities. and later, a dinner at the Casa!